Congratulations are in order to these fine men: Senator Jim DeMint was joined by seven other co-sponsors of SB 504, including Sens. Tom Coburn, R-Okla.; Orrin Hatch, R-Utah; Mike Lee, R-Utah; Rand Paul, R-Ky.; James Risch, R-Idaho; Pat Toomey, R-Pa.; and David Vitter, R-La. Thank you, Senators, for doing what needs to be done!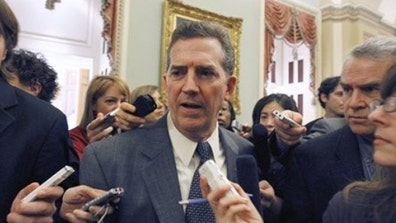 A group of conservative U.S. senators has introduced a bill to restrict unions from forcing workers to join and pay dues as a condition of employment.
Senator Tom Coburn
The move on Capitol Hill comes as several states consider what's known as "right-to-work" legislation — proposals that have met stiff resistance. Indiana Republicans recently shelved their right-to-work bill after it sparked protests at the capital and after Democrats fled the state to block it, mimicking the tactic used by Wisconsin lawmakers holding up Gov. Scott Walker's anti-union proposal.
But GOP senators in Washington said national legislation is needed to stop the "strong-arm political tactics" they claim labor bosses are using to compel new employees into joining their ranks. They introduced the National Right to Work Act Tuesday.
"No American should be forced to join a union and pay dues to get a job in this country," Sen. Jim DeMint, R-S.C., said in a statement. "Many Americans are already struggling just to put food on the table, and they shouldn't have to fear losing their jobs or face discrimination if they don't want to join a union. Forced-unionism shields unions from member accountability and has a detrimental effect on the economy."
Currently 22 states have right-to-work laws, according to the National Right to Work Legal Defense Foundation. Research by the National Conference of State Legislatures shows that several states in New England and in the northern Midwest are now considering right-to-work proposals.
Right-to-work advocates say states with those laws on the books are more conducive to economic growth.
~~~~~~~~~~~~~~~~~~~~~~~~~~~~~~~~~~~
It seems so logical to do this that I seriously doubt it will go over well in DC. The entrenched unions are accustomed to dictating terms and are not going to let this get by – and the Democrat Party has already demonstrated their total harmony with the strong arm tactics used by thug unions. Unions once served a purpose, but have become dinosaurs that are a drag on humanity and a definite detriment to a free society which we supposedly are (but getting less so every day).